Local historic walks around Mannum
Three walks depicting the rich cultural history of Mannum
Welcome to country: I, Isobelle Campbell, Nganguraku Custodian, would like to welcome you to the land of my people. Today, Ngaut Ngaut Conservation Park, near Nildottie, can be visited by groups of ten or more. You can experience Aboriginal Culture on a journey through the ancestral home of the Nganguraku people. This experience will challenge perceptions of Aboriginal culture and leave visitors in awe of the resourcefulness of Australia's first people.
Follow the YELLOW TRIANGLE MARKERS
Estimated Time: 1 to 1.5 hours
Estimated Distance: 2.5km
Gradient: Steep
Topics of interest on this walk include:
Randell family homes
German heritage and religion
Geology of the region
Life style of the Nganguraku people before white settlement
William Richard Randell was born on 2nd May 1824 at Sidbury, Devon, England and arrived in South Australia with his family on the 'Hartley' in 1837.With help from his brothers, he constructed the first paddle steamer to ply the Murray in 1853. It was named the 'Mary Ann' in honour of his mother. Randell ventured upstream through Victoria and New South Wales and established trade across borders to places previously hard to access. He was a Member of Parliament in the 1890s and died on 4th March 1911 at the age of 86. He was buried in the Salem Baptist Cemetery, S.A.
Follow the GREEN TRIANGLE MARKERS
Estimated Time: .5 to 1 hour
Estimated Distance: 2km
Gradient: Sloped inclines
Topics of interest on this walk include:
Shearer properties
Early commercial development in Mannum
River recreation
Invention and industry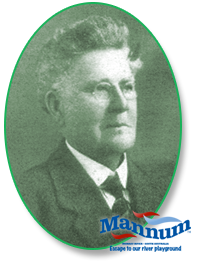 David Shearer was born on 7th November 1850 in the Orkney Islands of Scotland, and arrived with his family on the 'Omega' in 1852. David and his brother John Shearer began as blacksmiths in Mannum in 1877.Together they built up one of the most successful agricultural machinery manufacturing businesses in Australia. Later John moved to Adelaide while David stayed in Mannum. David built one of the earliest Australian automobiles. It had a twin cylinder steam engine of 15 horse power, a differential and travelled at 15 miles per hour.David Shearer spent forty years as a Mannum councillor and died on 15th October 1936, at almost 86 years. He was buried in the West Terrace Cemetery in Adelaide.
Follow the ORANGE TRIANGLE MARKERS
Estimated Time: 1 to 2 hours
Estimated Distance: 4km
Gradient: Sloping
Topics of interest on this walk include:
Arnold properties
Mannum showgrounds
The Murray water pipeline
The Mid Murray Council Office and Police Station
The expanded Shearer factory
Mannum Hospital
The Soldiers' Memorial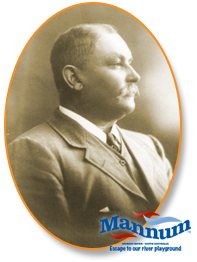 J.G. or 'George" Arnold was born on 24th January, 1863 in Gottenburg, Sweden. From a young age he endured hardship at sea obtaining world class qualifications as a sea and river captain by 1886. Arriving in South Australia in 1889, he worked on paddle steamers from Mannum building his business, 'The Arnold Line of Steamers Ltd' by 1913. He showed courage and innovation through-out his business and private life, obtaining large contracts, building and maintaining boats, and establishing a loyal workforce. A community man, his family home 'Esmeralda' hosted family and friends and provided a venue for sporting groups. The Mannum Hospital was built with George's help. He died on 25th May, 1949 aged 86, and was buried in the Mannum Cemetery.